Special Education Mediation Services (SEMS)
Special Education Mediation Services (SEMS), formerly known as Michigan Special Education Mediation Program, provides mediation, facilitation and training services for working through disagreements so that children with disabilities promptly receive the services they need to develop and succeed in school. These services often help to avoid disputes or help resolve them early.
Good communication between parents and the school district is critical in working together to meet the educational needs of students. However, sometimes challenges may need to be addressed with additional support. How parents and schools communicate with each other plays an important role in finding common ground. Facilitators and mediators support collaborative conversations to help build a foundation for student achievement. The value of mediation is recognized by the Individuals with Disabilities Education Act and the Michigan Department of Education Office of Special Education. Facilitation and mediation services are available free of charge.
If you would like to read more about SEMS, check out their website at

https://mikids1st.org/.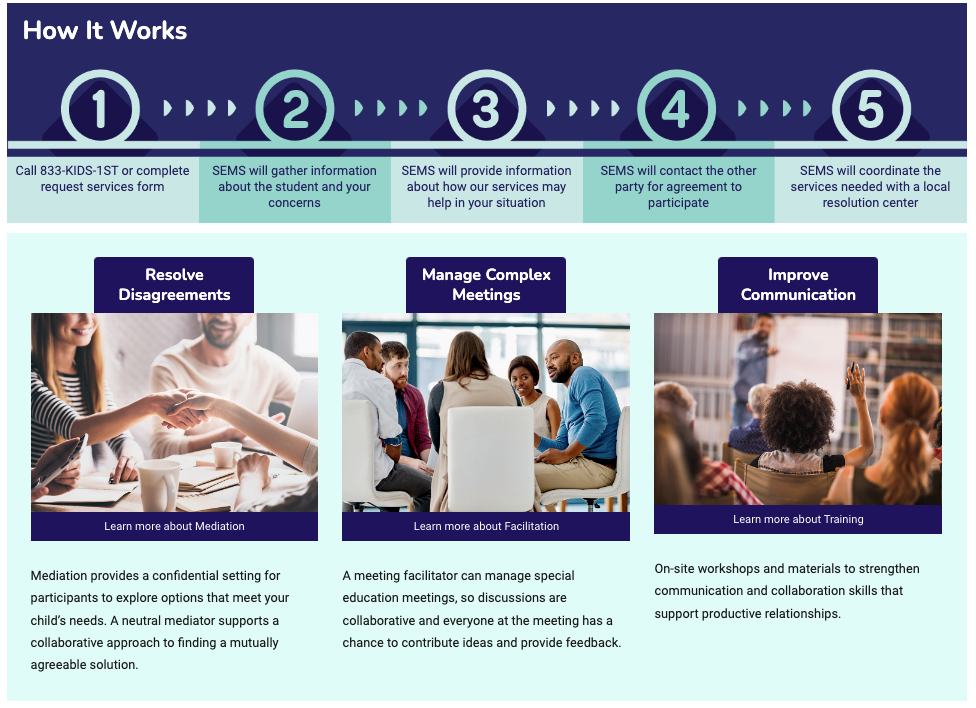 If you have questions regarding SEMS, or need assistance managing a complex parent-district relationship for a student with special needs, please reach out to Assistant Superintendent of Special Education Services, Christy Miller at

specialeducation@moisd.org or 231-796-3543.
SPECIAL EDUCATION MEDIATION SERVICES (SEMS)